As a commercial business owner, you know the importance of having a Boston corporate fleet locksmith on your contacts list. If one of your drivers gets locked out of a vehicle and can't make an important delivery, your company's reputation is at stake. You need that driver back on the road and fast. With a large inventory of over 10,000 items in stock and the most advanced equipment, HMS Locksmith technicians can handle car key replacements, ignition repairs on most make and models from Audi, BMW to Chrysler, Ford, and much more.
We provide mobile fleet locksmith services to a 60-mile radius of the Boston Metro area.
When you have a service contract with a reliable and efficient commercial auto locksmith, you can keep your fleet mobile and your customers happy. Here's what you can expect when you partner with HMS Locksmith:
Responsive and Reliable Fleet Locksmith Services
Our experienced locksmiths are on duty 24/7. We arrive quickly in fully stocked vans with everything we need to unlock your vehicle.
Lockouts are always emergencies, but when you have customers waiting for deliveries, a lockout can be a nightmare. With some locksmiths, you might be waiting for hours for service. With others, you might be locked out in a remote location where the locksmith you called doesn't offer service.
You can reduce unnecessary delays by contracting with HMS Locksmith. We offer priority mobile locksmith services and vehicle lockout services in your delivery area.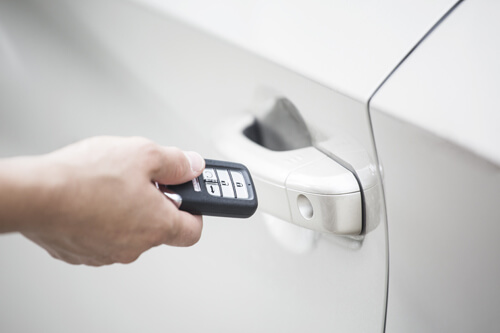 Custom Invoicing for Fleet Lock and Key Services
At HMS Locksmith, you'll get affordable prices, competitive rates, and accurate quotes. Our custom invoicing software ensures that billing information is accurate, up to date, and easily accessible. You may qualify for a discount on certain auto locksmith services including bulk orders.
Experienced Corporate Fleet Locksmith
Our master locksmiths have years of commercial fleet experience and a working knowledge of the types of vehicles in your fleet. We have the skills and expertise to quickly unlock a vehicle and perform any necessary repairs. We do whatever it takes to ensure your complete satisfaction.
Big rigs, specialty vehicles, farm, and construction equipment, and large trucks that haul bricks or move dirt have unique keys and locksets that only knowledgeable locksmiths can repair or properly cut keys for.
A Full Spectrum of Fleet Lock and Key Services
HMS Locksmith offers a wide range of services in addition to emergency vehicle lockouts. Our locksmiths can cut vehicle keys on the spot. We'll get your driver back in the car and the car back on the road.
Our fleet locksmith services include replacing transponder keys and keys with programming. We can remove keys that break off in the door lock or ignition and repair those locks. We replace ignitions, key fobs, auto remotes and key locks on most vehicle makes and models.
Extensive Vehicle Locksmith Service Area
Our services are available within a 60-mile radius of the Boston Metro Area and the Greater Boston Area including the North Shore, the South Shore, and beyond. We come to you when and where you need us.
HMS Locksmith can save you time and money. Our Boston fleet lock and key service is your ticket to a speedy resolution of any vehicle lockout and the key to keeping your fleet up and running.